Resource Mobilization & Debt Management Division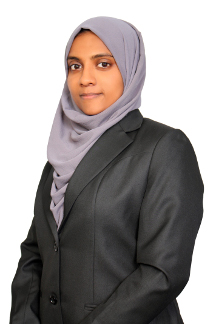 Ms. Mariyam Abdul Nasir
Chief Resource Mobilization & Debt Management Executive
Head of Resource Mobilization & Debt Management Department
Resource Mobilization Section

Resource Mobilization Section is responsible for mobilizing resources for development projects prioritized by the government for grant or loan financing; and review progress of externally funded projects. Coordination of missions to Maldives related to project work, attend meetings and also make necessary arrangements for participation of government officials in annual meetings of the international financial institutions are also key functions assigned to this section.
Debt Management Section
Debt Management Section is responsible for setting the policy on debt, through the preparation of the Medium Term Debt Management Strategy, annually. Conducting risk assessment of all sovereign borrowings and guarantees is also one of the key responsibilities of the section. The section is also responsible for recording and reporting of debt, handling transactions related to debt servicing and disbursements of donor funded projects, obtaining payment confirmations, as well as maintaining contract ledgers of all contracts signed under externally financed projects. Additionally, as a matter of priority, all records of sovereign and sovereign guaranteed debt, external grants, and on-lent loans are recorded and maintained. Reporting on debt to relevant parties and preparing the necessary debt-related information for the National Budget and servicing of debt according to set schedules are also important functions of the section.